St. Mark partners in two way to spread the Gospel to the ends of the earth (Acts 1:8).  We support Cindy Zirbel Wrucke as missionary in Eurasia and, in conjunction with 59 other congregations, participate in what is called 1-1-1 Missions.
---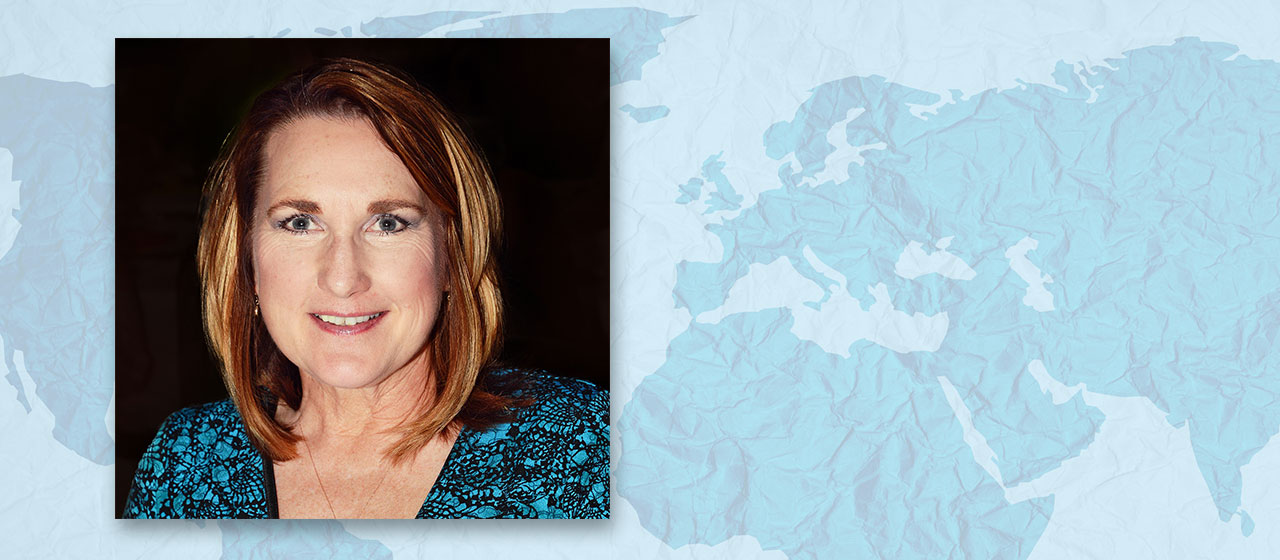 Cindy Zirbel Wrucke
Serving the Lord in the Eurasia region
---
Bio
Cindy Zirbel Wrucke serves the Lord through The Lutheran Church—Missouri Synod (LCMS) in Eurasia, based in the Czech Republic. Cindy is the director of communications for the Eurasia region. She develops effective regional communication strategies and supports the LCMS personnel serving in this region with their communication needs. She also presents timely information about Eurasia mission work through print, video, web and social media to worldwide audiences.
Cindy's home congregation is Peace Lutheran Church, located in Beaver Dam, Wis. She received a bachelor's degree in journalism from Marquette University, Milwaukee, and a master's degree in communication from the University of Wisconsin-Milwaukee. In her free time, Cindy enjoys knitting, running, cooking and traveling.
Cindy has video production experience at NBC affiliates in Milwaukee and Dallas, as well as American Airlines corporate headquarters in Dallas-Fort Worth. She served as editor for Thrivent's magazine Correspondent before owning her own marketing communication firm. Cindy also worked as a financial advisor and was a limited partner with Edward Jones. She most recently owned an organic farm and ran a local business in the Horicon, Wis., community.
Prayers
Please pray for Cindy as she serves in the Eurasia region. Ask God to help her quickly adapt to a new culture and learn a new language. Pray that God strengthens her to boldly share the Gospel through effective communication. Ask God to keep Cindy safe as she travels throughout the region supporting the LCMS personnel in their fields of service. Let us give thanks to God that Cindy is serving His children in this part of the world.
Partnering
As a congregation, we support Cindy financially and through prayer. If you would like to receive email updates from Cindy, send an email message to Cynthia.Wrucke@lcmsintl.org with the word ADD in the subject line.
If you would like more information and discover ways you can help individually, go to https://www.lcms.org/Wrucke.
---
Introduction and FAQ 
Our English District is launching a new model for funding missions to which every congregation is invited to participate. It is completely voluntary but we believe that as God's people see and hear what is being accomplished specifically and directly in support and development of new missions and enhancing existing missions, more and more of us will want to be involved.
This funding model is based on the belief that "there is power and strength in many giving a little." Loving our neighbor includes caring for their spiritual well-being. This is why the need exists for God's people to come together in support of missions that are bearing kingdom fruit.
For "everyone who calls on the name of the Lord will be saved." How then will they call on him in whom they have not believed? And how are they to believe in him of whom they have never heard? And how are they to hear without someone preaching? And how are they to preach unless they are sent? As it is written, "How beautiful are the feet of those who preach the good news!" - Romans 10: 13-15
It's simple. Very simple. It is NOT burdensome, nor sacrificial. It involves every baptized member of the Body of Jesus in your congregation, from the newest baby baptized to the oldest member.  It demonstrates the power of the beautiful body of Christ working together, prompted by faith. It shows how much can be accomplished by many, giving little.
Here's the plan:

    $1/per baptized member/per week
Simple, right? Self-explanatory almost. Not burdensome, nor sacrificial. All can participate. 
If every baptized member of our district congregations did ONLY this plan, we could produce $2.5 million in addition to our district's total budget of $1.8 million. The numbers are staggering. Just think what else we could do!
Frequently Asked Questions | Participating Congregations
Two Mission Supports: Concordia Lutheran Mission  Dominican Republic Lutheran Mission DRLM